Fort Worden Historical State Park
Fort Worden is a 434-acre Washington State Park located by Port Townsend on the scenic Olympic Peninsula. Construction began on Fort Worden in 1890, and it formed part of a "Triangle of Fire" defense of Admiralty Inlet with Fort Casey (Whidbey Island) and Fort Flagler (Marrowstone Island).
By World War I, with advancements in naval and aerial weaponry, these defenses had become obsolete. During World War I many of the guns were removed, and in World War II most remaining armaments were scrapped.
Today it remains a popular destination for recreation and family events. Many of the original officer houses and enlisted barracks have been made available as vacation rentals and event spaces, and 2 museums tell the story of Fort Worden and the people who lived and served there. The historic gun batteries are all open for exploration (bring a flashlight!), with tours available through the Puget Sound Coast Artillery Museum.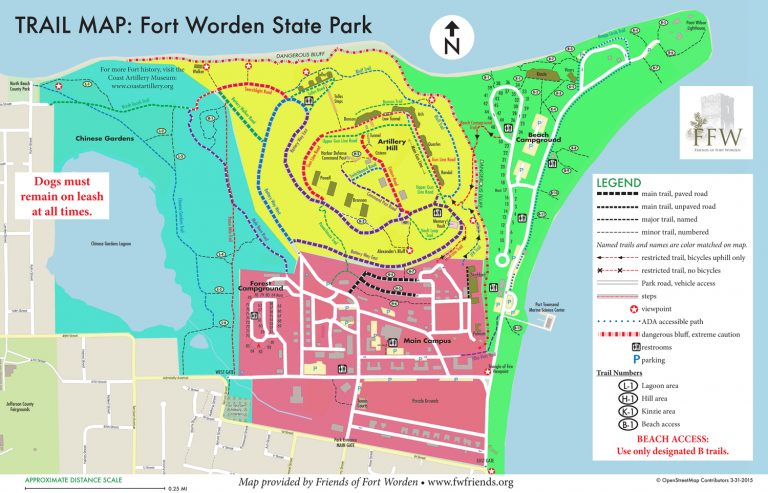 The Fort Worden Conference Center consists of over 50 original fort buildings built over 100 years ago.  These buildings include over 20 vacation rental houses, 3 group housing dormitories, a theater, concert pavilion, conference spaces, and 2 museums. The Commons is a center for visitor services and events, with reservation desk, cafe and event spaces for your special occasions.
Two historic gun batteries overlook Point Wilson near the famous Alexander's Castle vacation rental, and the Forest Campground offers 85 campsites within short walking distance of trails and Conference Center amenities.
Overlooking Point Wilson and the Parade Ground, Artillery Hill offers opportunities for exploration and learning more about how these coastal defenses guarded the entrance to Puget Sound.
Many trails cross the Hill, connecting six gun batteries, 2 mortar batteries, and many other buildings and many sites from the years that Fort Worden was an active fort.
All of the gun batteries are open to the public (bring a flashlight!), and tours of the Harbor Entrance Command Post and Artillery Hill are conducted seasonally on the weekends, or by special arrangement with the Coast Artillery Museum, located on the Parade Ground.
Chinese Gardens & North Beach
Point Wilson extends northeast into Admiralty Inlet with over 2 miles of shoreline for beach-combing and recreation.  
For camping, the Beach Campground offers 50 campsites nestled at the foot of Artillery Hill within easy walking distance of the beach.
Other points of interest on Point Wilson include 2 historic coastal gun batteries, the Point Wilson Lighthouse, and the Pt. Townsend Marine Science Center.
A hiking trail climbs Artillery Hill from the Beach Campground, leading to the main complex of pre-World War I coastal defense structures.
The small gardens that were built by early immigrants have long since disappeared, and now the grassy area on the western side of the park features several trails that connect the Conference Center, Artillery Hill and North Beach County Park.
Next to the West Gate and trailhead for Peace Mile Trail, the Fort Worden Cemetery occupies the southwest corner of the park.