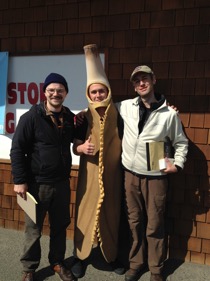 Recreational razor clamming is one of the most popular licensed outdoor recreational activities in Washington State and enjoys a long season from Fall to Spring.
It is a family-friendly, all-ages activity enjoyed by over 75,000 locals and tourists each year in Washington.
It even inspires some real fanatics, such as this dignified Clambassador!
The Washington State Parks Foundation is pleased to partner with the Razor Clam Society and their dedicated clambassadors to provide these tips, pictures and resources to inform and entice you to head outdoors to state parks along the pacific coast. At these state parks you can forage for these delectables, enjoy winter accommodations and support the local coastal communities that welcome you to join in the fun. Enjoy and bon appetit!
---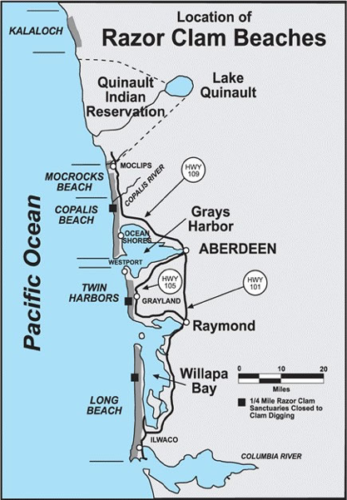 Clamming along the Coast: Digging razor clams takes place around low tide on sandy, surf-swept Pacific beaches. In Washington State, these beaches stretch from as far south as the tip of Long Beach to as far north as the Moclips River, where the southern boundary of the Quinault Indian Reservation begins. The main beaches open for digging are Long Beach, Twin Harbors, Copalis Beach, and Mocrocks.
When heading to the coast to dig razor clams, plan a stay at one of the State Parks along the coast. Camping and clamming is really one of the best ways to enjoy our fair state. Many of our State Parks provide camping and RV hookups, and all are equipped with the facilities needed to clean and cook razor clams.
Remember to reserve your spot ahead of time to take advantage of the convenient access to the beach, the know-how of the Park staff, and to beat the crowds. State Parks, such as Ocean City, Pacific Beach, and Grayland, are located in close proximity to towns with amenities, such as grocery stores, restaurants and fuel stations.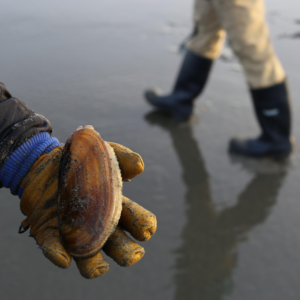 ---
Planning your trip: As part of planning your trip to go razor clamming, you should check the Razor Clam Society website for updates on dig dates, conditions, and other useful information. You can also go to the official website for Washington Department of Fish & Wildlife (WDFW) for additional resources. WDFW tests for levels of a natural toxin produced by certain types of algae to determine if, when and where to open beaches for harvesting of razor clams.
Razor clamming should only be done at the designated times and locations published. Before heading out always be aware of season openings, closures and adhere to designated times and locations.
---
Timing is everything: Knowing about tidal timing and tide heights is critical to a good dig.
The best conditions for digging clams occur an hour before low tide as the tide goes out, low tide, when the water level is low enough to expose the clams that aren't easy targets for birds and other clammers, and shortly after the low tide.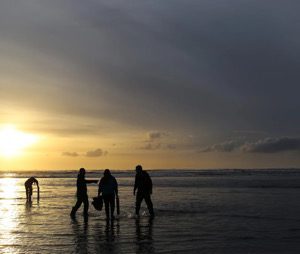 The approved low tides for razor clam digging happen at all times throughout the season, and it is not uncommon for these to occur very early in the morning or late at night.
Nighttime digs add to the adventure as razor clammers don headlamps and descend on the beaches lighting up a miles-long stretch of the Washington coastline. Not to mention the feeling of a warm sunrise on your back as you face west toward the Pacific digging into the early spring sand after a razor clam. Waiting for an evening low tide next to a warm beach bonfire with good friends and family forges unforgettable memories that can last for a lifetime. It's a one-of-a-kind experience that can connect you with so many other fellow clammers.
---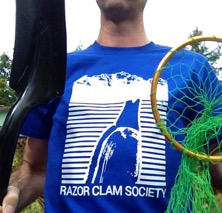 Permits & Rules: The first thing you'll need to be a razor clammer is a valid Washington State shellfish harvest license. Only young clammers (under 15 years of age) can clam without a license. For 2016/2017, a 3-day license is $9.70 and an annual 2016/2017 season license for Washington residents is $14.10. You must always carry the license with you during your digs.
Each digger is also required to have their own individual container. This container should never have more than 15 clams in it or you will be fined for being over your limit. We recommend using a net, something that will hold the clam but not a bunch of sand and water.
---
Finally, you'll need your chosen digging tool.
There is a lot to the decision over which digging tool to use. Diehard clammers tend to use a razor clam shovel, as tradition dictates. The shovel requires a bit more skill, a bit more speed, and a lot more courage.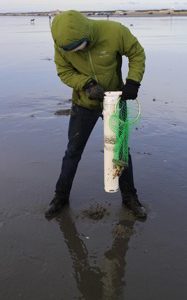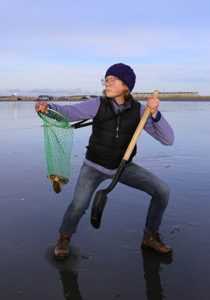 If you'd prefer to stay a bit cleaner and keep your hands out of the sand you can use a clam tube or clam gun instead. A clam gun is a plastic or metal tube with a handle that has a small hole you cover with your thumb. After you push and twist the tube down into the sand you plug the hole in the handle and turn your tube into a straw that pulls out all of the sand and the clam with it. Clam guns are very useful if you plan on clamming close to the breaking waves. Always remember that when clamming in the drier areas of the beach, please remember to fill in the holes you make when digging for clams.
Once you have the required license and gear, you are ready to go out and dig.
Now, how do you find a clam?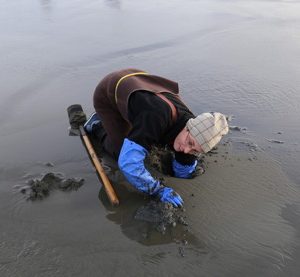 To locate where a clam is you'll need to find the "show".
The "show" is a small hole or divot in the sand where the razor clam has extended its siphon up through the sand creating a small tunnel to feed on plankton from the ocean.
This is where your clam is, so start digging.
Many different digging techniques exist and you'll be sure to find other helpful razor clammers on the beach that will be more than happy to assist a first time clammer.
Pay attention to the waves, don't lose your container full of clams or leave trash to wash away, and try not to break the razor clam's shell when you're digging.
---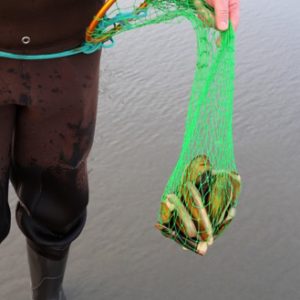 Clamming rules & principles: If you damage the clam's shell you are not allowed to leave it in its hole, and if you pull out a clam – no matter its size or form – you need to count it toward your limit. The clam tastes the same regardless of the integrity of its shell, and even seasoned clammers will break one or two.
Lastly, while the state limit is 15 clams per day, don't feel obligated to dig all 15. The clams aren't going anywhere. Actually, the clams you find will have lived in that same spot for years. The clam you leave behind could very well be right where you left it when you return on your next dig. Too many people load up their freezers and forget about their clams. So only dig what you need.
---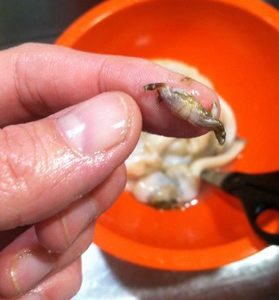 Cleaning tips: Cleaning a razor clam is easy with some practice. The clam even does some of the work. We recommend letting your clams soak in a bucket of fresh water for several hours, this will allow the clam to expel some of the internal sand on its own and discard a slippery film that surrounds the clam. (More cleaning tips from WSPF's blog that includes video.)
After the clams have soaked, some people like to put them quickly in boiling water and then chill them in cold water before removing them from their shells and preparing the meat. Others like to remove the clams from the shell when they are still alive and fighting.
Regardless of your method, once the clam meat is free from its shell you can now clean the meat.
A few things to keep in mind though; Don't be startled if you find a tiny crab or a small worm in your clam. The pea crab and malacobdella worm live symbiotically with razor clams.
We recommend cutting off the tip of the clam's siphon, and then filleting the clam by cutting from the belly up to the neck through the siphon with scissors. The dark colored areas that are the gills, and digestive and reproductive sections can be discarded as they have little meat and are quite bitter. Finally, use a knife to filet open the digger (or foot) and discard any discolored digestive matter. When doing this you'll find a crystallin cylindrical rod that should also be removed.
---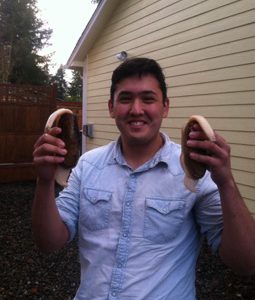 Eating: Pacific Razor clams are gaining in popularity as a local and seasonal delicacy and can be found in top restaurants and grocery stores all over the west coast.
In addition to their great taste, they are a sustainable, convenient, and local source of protein. In fact, recently the Monterey Bay Aquarium's Seafood Watch listed Pacific razor clams as "healthy", "abundant," and a "best choice" for consumers.
You won't have any problems discovering great cooking techniques and recipes ranging from creamy, savory chowders, to bright and spicy ceviches. We like to pan fry ours with butter and season with salt, lemon and fresh herbs. Feel free to experiment. They can be barbecued and even chopped and mixed into a savory waffle batter and cooked crispy using a waffle iron!
---
Final thoughts from the Razor Clam Society: Razor clamming continues to be historically and culturally important to recreational enthusiasts in Washington State and the coastal tourist economy.  Washington State Parks on the coast rely upon the well-managed razor clam fishery to attract razor clammers to the Parks during non-peak seasons.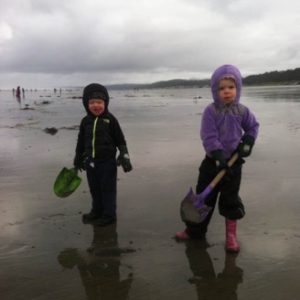 It is the mandate of the Razor Clam Society to promote and support all aspects of recreational razor clamming for the enjoyment of future generations to come. Please join us and keep the tradition thriving and enjoy a Washington State Park while out on the coast.
Please join us Saturday, November 18, for the beginning of a series of razor clam digs. The proposed dig dates will be confirmed a few days prior to the scheduled dig. Be sure to check our website www.razorclamsociety.org, or follow us on social media, to be kept up to date and informed on the most current razor clamming news and information.
About the Razor Clam Society: The Razor Clam Society is dedicated to promoting recreational razor clamming. Our aim is to build a highly engaged community of razor clammers to ensure the viability of razor clamming for the enjoyment of future generations. Our efforts focus on four things: 1) conservation; 2) representing the clamming community to local and state government; 3) connecting local economies to the broader clamming community; and 4) highlighting how much fun responsible clamming practices can be.
---
We love Washington's state parks and connecting you to our partners like the Razor Clam Society who can help you plan your outings and inspire you with new ways to enjoy your parks. Here at the Washington State Parks Foundation, we support, promote and advocate for your state parks. Our members make our work possible. Please join us today to help us make your favorite state parks even better.