Written by AJ Barse, award-winning Pacific Northwest photographer and friend of Washington State Parks Foundation
Iconic landmarks, navigational marvels, and architectural beauties, lighthouses in the Pacific Northwest continue to fascinate and delight thousands of visitors every year. Whether you are a captain navigating the Pacific Coast, vacationing at the beach, or searching for a stunning subject for your photo, lighthouses have something to offer people from all walks of life.
Hear from an award-winning Pacific Northwest photographer and friend of Washington State Parks Foundation, AJ Barse, as he describes four of his favorite lighthouses that can be enjoyed at or near Washington State Parks.
---
1) Lime Kiln Lighthouse at Lime Kiln Point State Park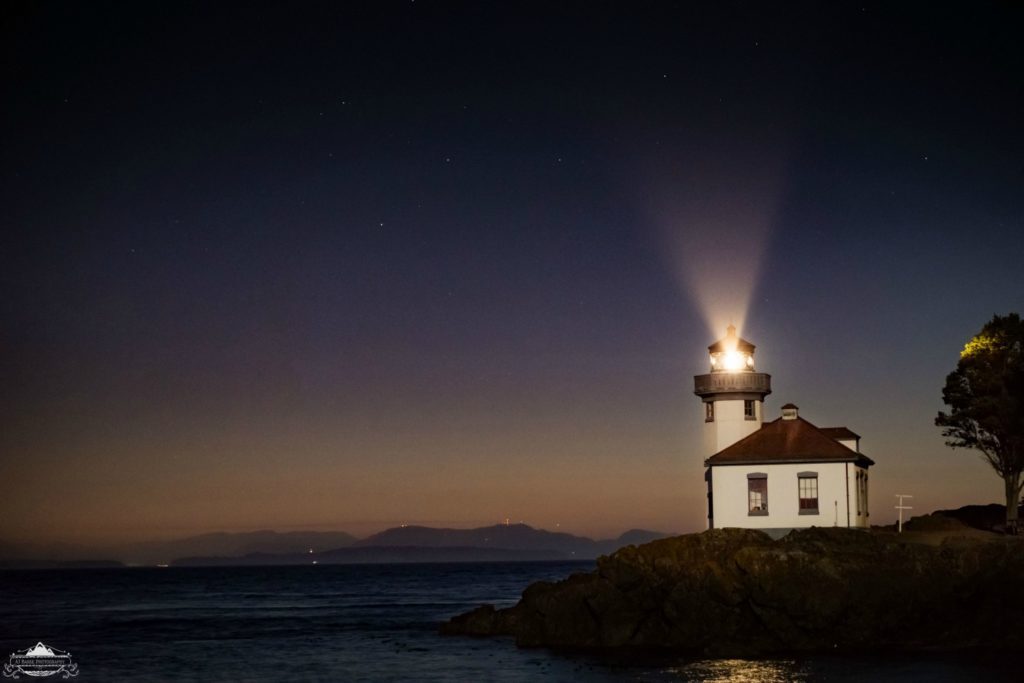 Built in 1919 by the US Coast Guard, and located in Lime Kiln Point State Park, Lime Kiln Lighthouse is on the northwest point of San Juan Island, WA. The lighthouse gets its name from the historic lime kilns located nearby, where stone was fired into lime. These lime kilns can still be explored by trail and if you feel adventurous, you can hike about a quarter mile above the lighthouse to see them. Lime Kiln State Park has several great areas to picnic and whale-watch from, and the lighthouse volunteers can fill you in on all the latest sightings of the orca pods. The park even has limited WiFi where, armed with a smartphone, you can tune into the live broadcast of the sounds of the sea and the pods of orcas that commute the waters! There is a lot to love about this lighthouse, but for me, I love how it looks at dusk. If you are a photographer looking to capture that beam of streaking light out of the lens of a lighthouse, Lime Kiln won't disappoint.
Virtually explore Lime Kiln Point State Park with a WSPF virtual tour and plan your trip today!
2) Cattle Point Lighthouse on San Juan Island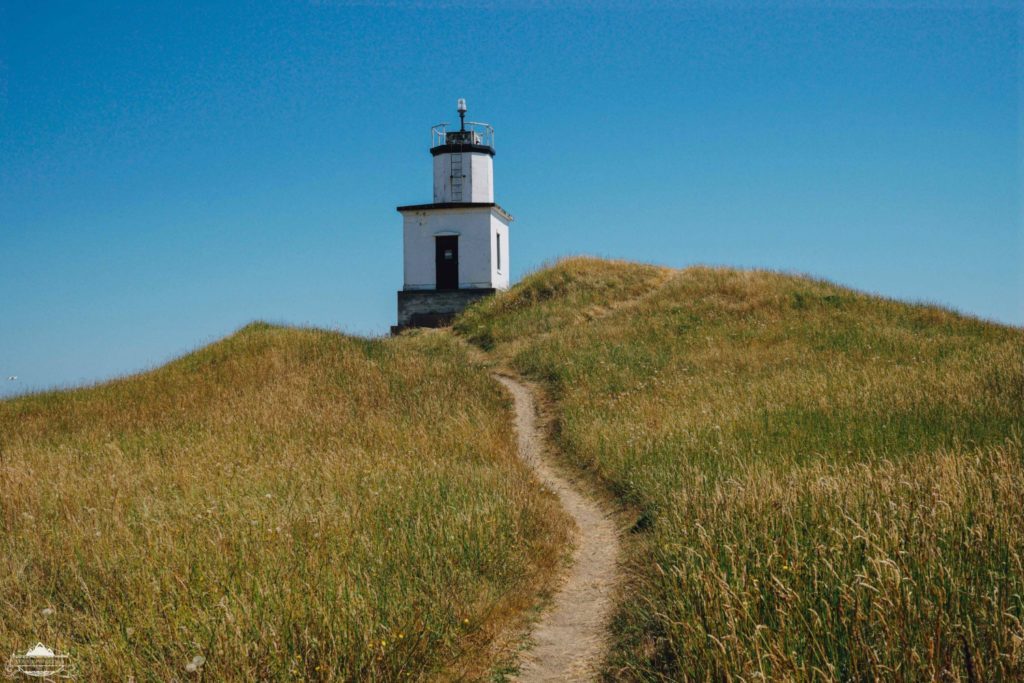 On the southernmost tip of San Juan Island sits Cattle Point Lighthouse, which was built by the US Navy in 1921. It is not the most architecturally impressive lighthouses I've ever seen, as it is simply a concrete octaval light beacon, but the view you have from its bluff is fantastic!
I love this lighthouse because it isn't a typical picturesque, destination lighthouse. It is more of an off-the-beaten-path kind of adventure. It can be accessed via a small, and easily walkable, sandy, beach path with golden, waist-high, straw grass that will lead you up to the lighthouse's bluff. Once up there, seagulls will greet your arrival along with a warm summer's windy sea air. A large flat area at the top of the bluff also makes for a great picnicking spot, with a remarkable viewpoint to watch for whales.
3) Admiralty Head Lighthouse at Fort Casey State Park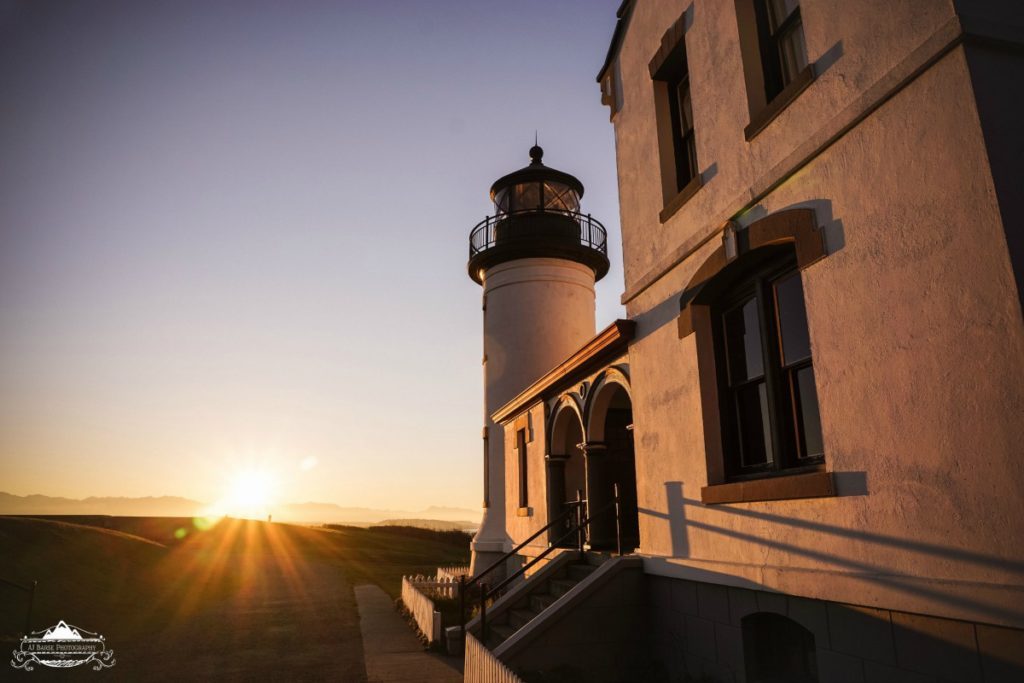 Too often overlooked by ferry commuters traveling from Coupeville to Port Townsend, the nearby Fort Casey State Park on Whidbey Island is home to a bright white and stout looking Admiralty Head Lighthouse. This impressive state park will instantly gain 'cool-points' with your friends and family because of the large historic batteries and pocket canons, grassy fields that are home to grazing deer, breathtaking views of Puget Sound and, of course, this beautiful lighthouse.
Overlooking Admiralty Inlet, Admiralty Head Lighthouse was completed in 1903 with extra thick walls to take the abuse from the concussion of the gun emplacements. In addition to its fascinating history, and its fantastic photo qualities, the thing I love most about this lighthouse is its epic view of the sound. I highly recommend that anyone looking to catch a killer sunset – say after a day of exploring historic sites – should gather at dusk near the front of the lighthouse to enjoy the view. As a photographer, I love watching the sun set across the lighthouse's arches and its turn-of-the century architectural features. It is as if this lighthouse is saluting the last rays of light from the day, before starting its work at night providing navigation for ships at sea.
Virtually explore Fort Casey State Park with a WSPF virtual tour and plan your trip today!
4) North Head (Cape Disappointment) Lighthouse at Cape Disappointment State Park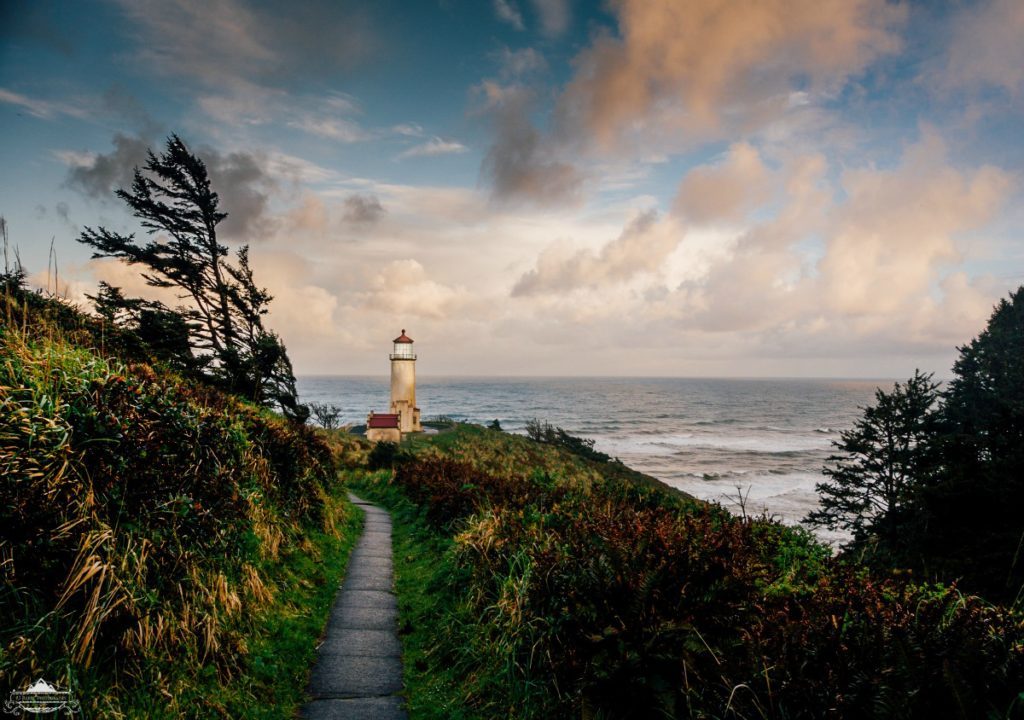 Growing up, I always called this "my lighthouse." My family would camp almost every summer at Cape Disappointment, formerly known as Fort Canby, which is how I still remember it. The North Head Lighthouse is a short drive up from the campsites of Cape Disappointment State Park and the view from that bluff, with that lighthouse, is perhaps one of the most memorable I have from my childhood.
This lighthouse is easily accessible by a reasonably flat trail to the bluff. Once there, visitors can enjoy 180 degree sweeping views of the Pacific Ocean with miles of coast on either side. What I love about this lighthouse is its instant iconic and photographic nature; but most of all, I love its character. I always imagined this lighthouse as an old salty sailor, with a red Jacques Cousteau cap, sitting diligently every day and every night with eyes on the horizon. This lighthouse sits on one of the windiest points in the United States. Pushing 118 years old, it has stood firm against 100mph winds. Although, weather has taken its toll on this historic landmark, it has been through several repairs and new coats of paint over the years. Hiking paths from the lighthouse's bluff to the beaches below, make just about any kid, or kid-at-heart feel like an adventurer, exploring uncharted trails.
Virtually explore Cape Disappointment State Park with a WSPF virtual tour and plan your trip today!
---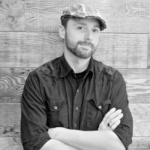 Visit ajbarse.com to learn more about AJ's photography or you can follow his travels on Patreon, Instagram, and 500px.
Visit waparks.org/photo-contest to join the Washington State Parks Foundation photo contest and become a valued member of our valued photographer community.