On Friday, May 1 we held our second Camp-In!
We hosted 3 new nature programs on orcas, volcanoes and petrified forests, and included music, dancing and shadow hand animals!
The Great Washington Camp-In aims to bring the spirit of Washington state parks to attendees' homes, as they enjoy an evening of fun programming from their living rooms or back yards.
Back by popular demand, The Washington State Parks Foundation
invited anyone craving a spring campout to attend the second Great Washington Camp-In
at 6:30pm Friday, May 1, streaming live on YouTube.
Camp-In offers an eclectic mix of Washington ranger talks, acoustic guitar sing-alongs, orca biology, flatfoot dancing and salmon grilling tips.
To join in, "campers" set up tents in their homes or yards, snuggle in their sleeping bags, and tune in to go camping with Parks Foundation members, staff, commissioners, fellow Washingtonians and anyone else who loves Washington.
The lineup started with a welcome from State Parks Foundation Executive Director John Floberg and Parks Commissioner Steve Milner and was emceed by distance learning host Inspired Classroom.  
Parks educators Alysa Adams and Kevin Lieske offered presentations of the Mount St. Helens eruption and Gingko Petrified Forest State Park, respectively.
Among the program highlights, Jeff Hogan of Killer Whale Tales discussed Washington's beloved orca pods, demonstrate orca calls and provide an orca card surprise for all the kids at home. Award winning magician Louie Foxx shared and taught one of the oldest forms of entertainment: Shadowgraphy. This is the art of making images with the shadows of your hands on a wall (or tent).  
Charmaine Slaven of Squirrel Butter, a fan favorite from the April 17 Camp-In, gave an encore Appalachian flatfooting dance lesson.
Washington State Parks Foundation also hosted a photo contest of the best house-camping setup. Participants have a chance to win a wide range of prizes including a portable HERO grill and other goodies provided by OutdoorsNW! Washington State Parks Foundation will also be providing a range of other prizes. Several prizes were announced at the end of the May 1 Camp-In event and still more prizes will be announced after the weekend .
The event featured a live chat function to allow real-time audience participation.
"The 

overwhelming positive response we got from our first Great Washington Camp-in 

told us that we had to do it again soon," said Foundation Director John Floberg. "Since we can't camp out, why not just camp in together and share some fun."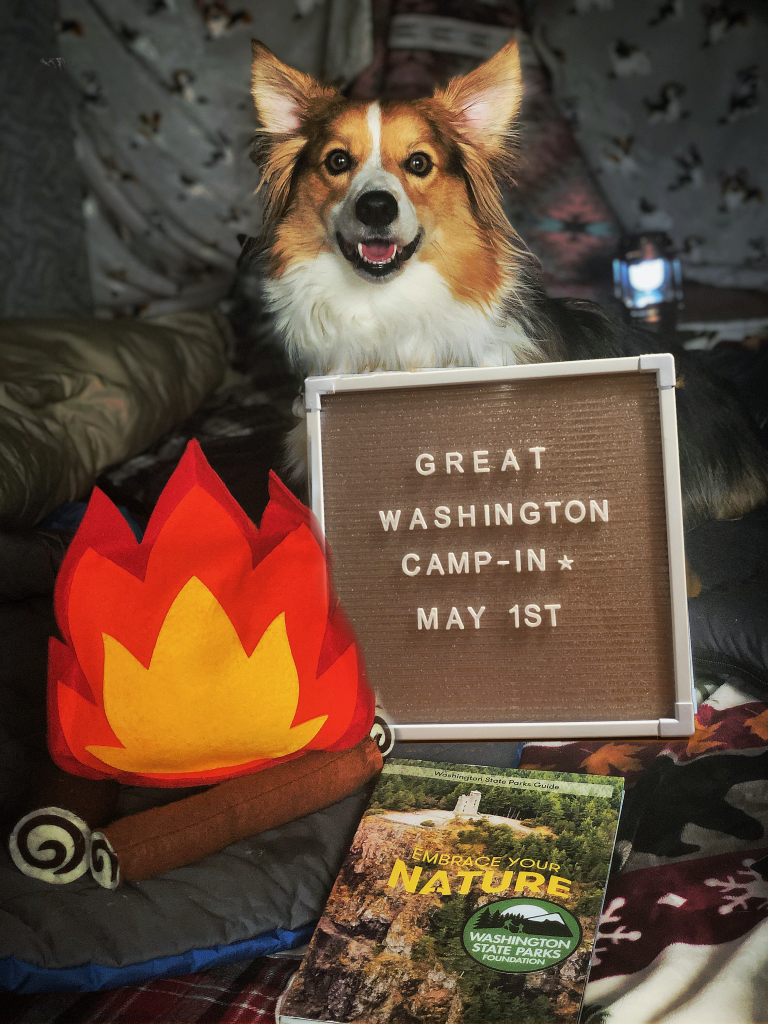 Brought to you by these wonderful partners and through the support of the generous donors of Washington State Parks Foundation:
Here's access to the first camp-in. We welcome all who love Washington.