Written by Carrie Yuan, park enthusiast, photographer, videographer and friend of Washington State Parks Foundation
Waterfront cabins, historical and outdoor education, activities, food, and opportunities to unwind makes Cama Beach State Park a popular destination for families in the Northwest. Hear from a young Seattle mother of three, Carrie Yuan, as she shares charming stories, heartwarming photos and a lovely video of her first family trip to this enchanting park.
---
My heart sank as we entered the camp store to see the retail section roped off and the ice cream freezer covered with a cloth. It was already past 4PM, and the store closed for the day already. The kids would be so disappointed — they were really looking forward to buying ice cream after their naps.
"Oh, come in! If it's for ice cream, I'll stay open a bit longer. But only for ice cream!" said the friendly gentleman behind the counter.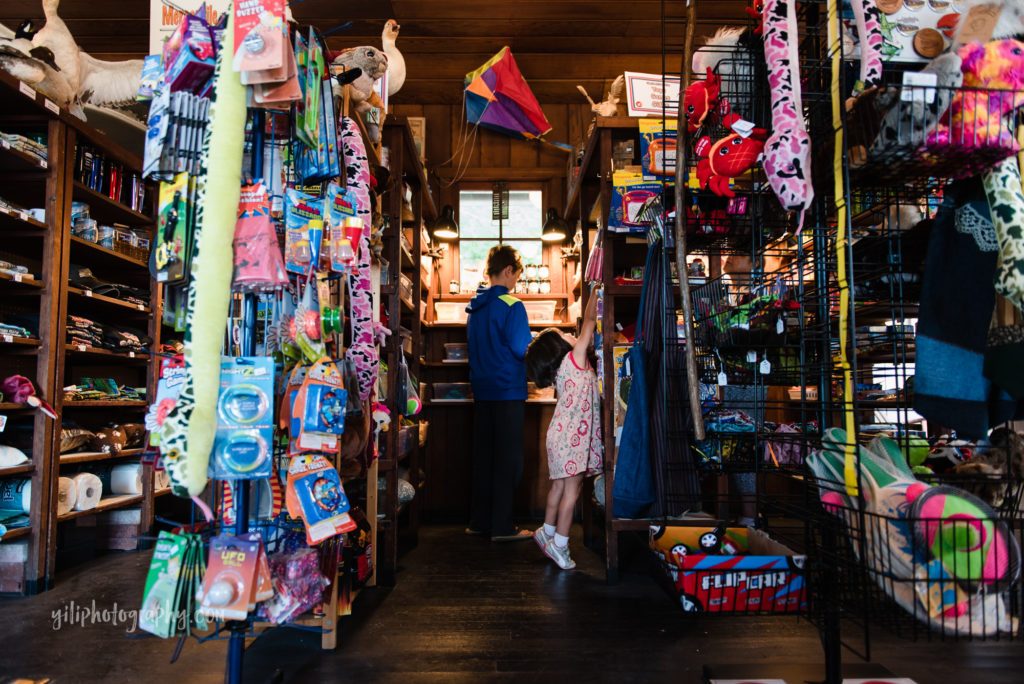 This interaction on our first full day at Cama Beach State Park sums up our entire experience. Everyone we interacted with, from Parks staff to fellow campers were really friendly and wonderful. I was so thankful for the Parks groundskeeper who was up early tending to the grass when I happened to lock all 6 of us out of our cabin as we went for morning bathroom stops at the (really nice & modern) bath house; I was still getting accustomed to the old-fashioned locks on the cabin doors. He came over and happily unlocked our cabin with his master key and averted disaster.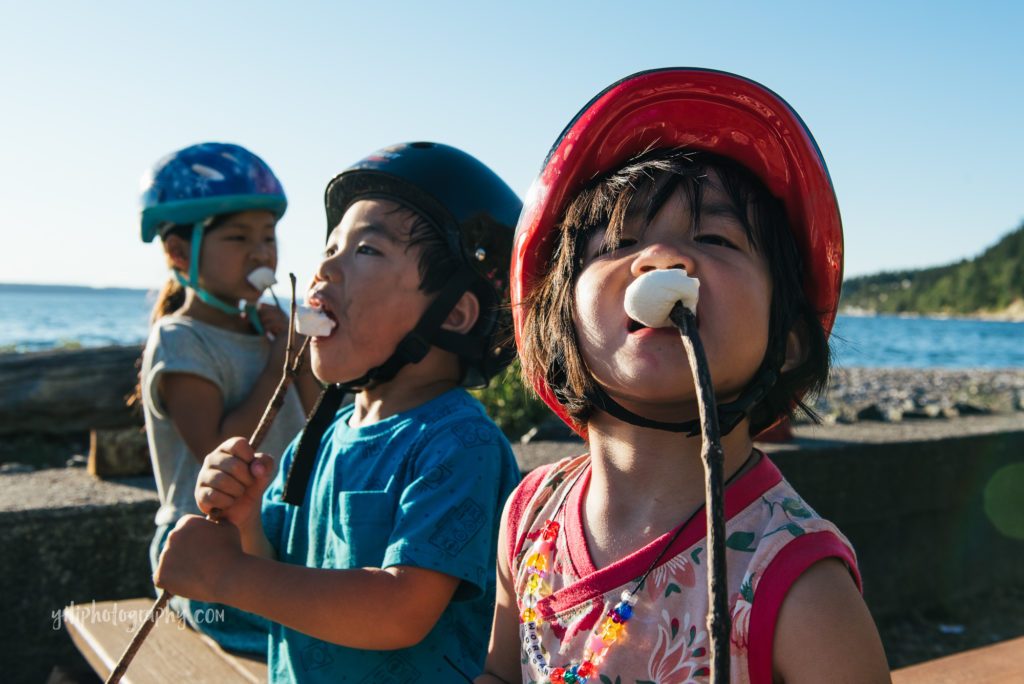 The best part about our 3 night stay at Cama Beach was the ability to unplug and for the kids to play outside to their hearts content from sunrise to sunset. Our 6 year old and 3-year-old twins loved playing in the water at low tide (they called the very fine sand icky gooey sticky mud), riding their bikes between the rows of cabins, playing life-sized chess, rowing a boat, eating giant cinnamon rolls, making s'mores, building sand castles, browsing the goods at the camp store, drumming on logs with driftwood, borrowing games and puzzles from the camp store, making crafts (nature journals, beaded bracelets, pinecone animals) with the park ranger every morning, hiking, sleeping in a bunk bed, and getting dirty.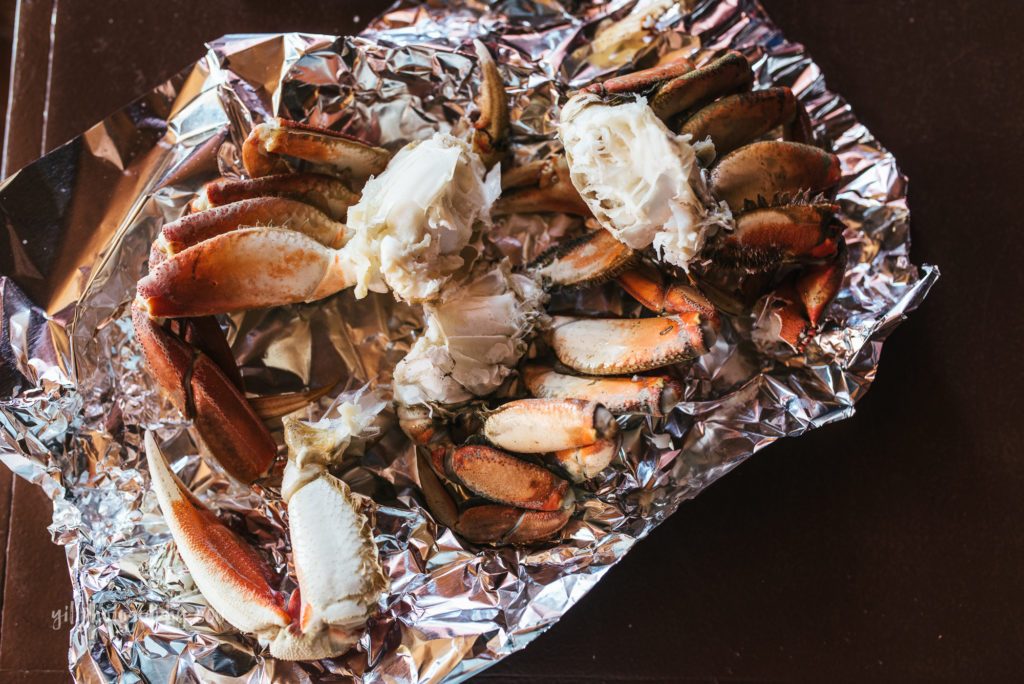 There was an abundance of other kids, and my kids enjoyed playing with the little boy staying in the neighboring cabin. Their family was crabbing in the Saratoga Passage (one of the best places in the state for crabbing, I hear), and my little ones marveled at their catches close up as they brought the crabs back to shore still alive, and then soon….not alive. On our last evening there, they generously shared a large plate of cooked crab with our family! As we sat outdoors enjoying this wonderful surprise dinner, I couldn't help but think of my late father. He REALLY loved crab and would have been so tickled to fish for Dungeness crab and then partake of them later that same day.
Truth be told, we're not much of a camping family, but the camping cabins at Cama Beach State Park are a great alternative for families that may not be ready to camp in tents. The medium sized fridge, microwave, and sink in the cabin made meal prep a breeze. There are several fire pits and barbecues around the grounds, and we were pleasantly surprised to learn that firewood is provided! (Visit the Alert Center for alerts and burn-ban notices at Washington State Parks.) For those slightly nervous about a community bath house, rest assured that the bathhouse at Cama Beach is large, clean & modern.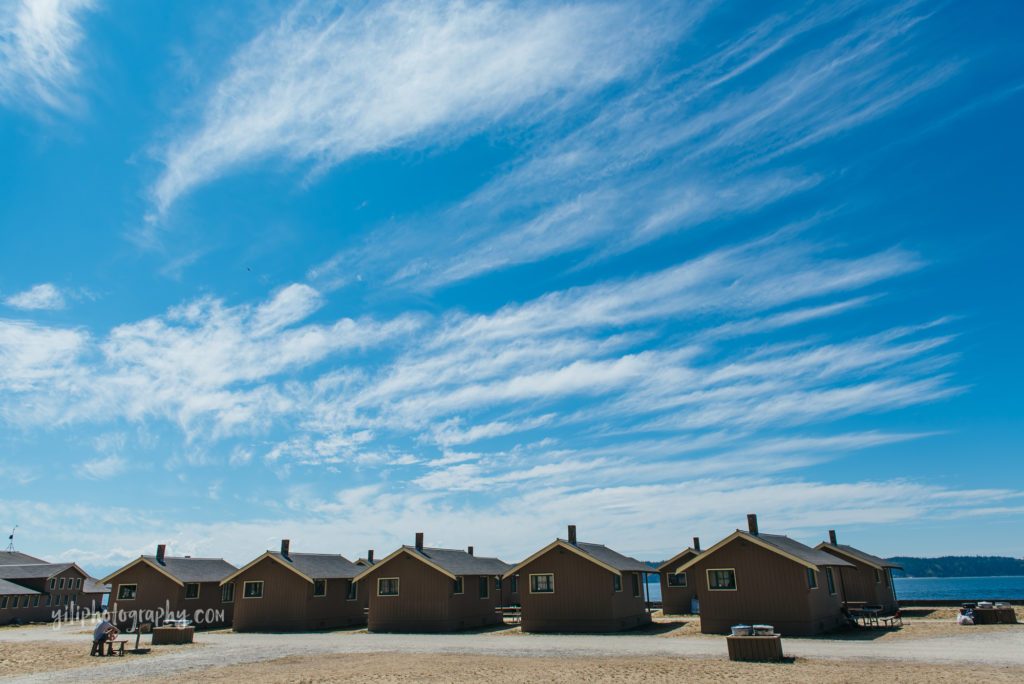 It comes as no surprise that the cabins at Cama Beach book up many months in advance, but if you're willing to be flexible with your dates and can go during the week, you have a better chance of snagging a cabin. I'm already checking our calendar for next summer, because we can't wait to go back.
---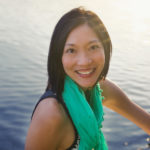 Visit yiliphotography.com to learn more about Carrie's documentary family photography. Carrie describes herself as an "outgoing introvert" and says it is a joy for her to create images that capture the essence of a person or the connection and love between family members.
Please join the Washington State Parks Foundation today to support our work to make your favorite state parks even better and ensure they are sustained for future generations to enjoy.