Thanks to you, we've been able to fund twice as many Park Improvement Projects as last year, with 20 amazing new projects across the state. These projects will bring improvements to your favorite parks in the coming year.
In the face of ever-diminishing governmental support for our extraordinary collection of State Parks, the little things often get cut from the budget. But these little things can make a big difference–things like upgrading the safety of an old playground, adapting for ADA access, providing way finding and interpretive signage, and restoring historic structures. And that's what our Park Improvement Projects (PIPs) aim to fund. Park staff across Washington state submitted proposals for twenty different projects, and your donations have funded these. Read on for the details of the first ten PIPs! (PIPs are listed alphabetically by State Park name.)
Conconully State Park: Interpretive Cabin Restoration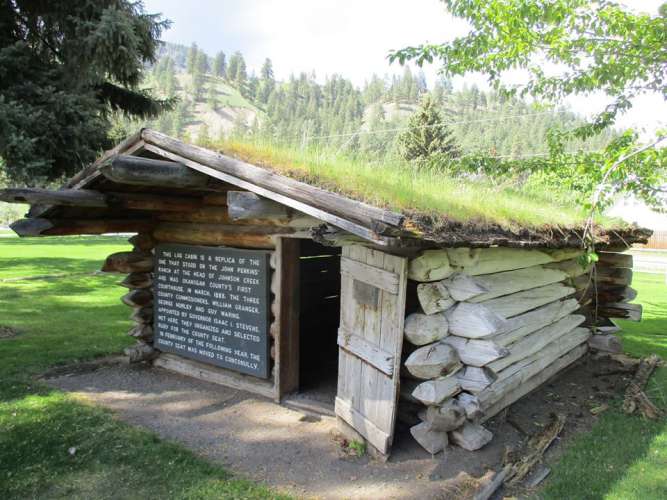 This building is a replica of the original Okanogan county seat from 1888, built by the Youth Conservation Corps in 1978. In this PIP, funding will go toward restoration to replace rotting logs, like the ones at ground level. Funds will go toward cured and hewn logs and hardware; labor will be provided by volunteers.
Deception Pass State Park at Bowman Beach: Bowman Beach Slide Replacement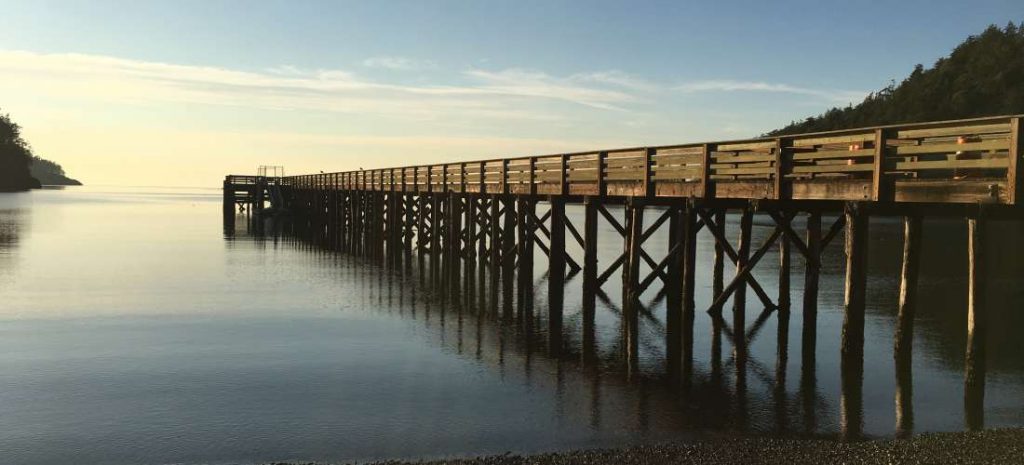 Bowman Beach offers fun and beauty for young ones and adults alike. But the 20-year-old playground is in need of a new slide, which has become an eyesore and a risk to children playing at the park. This PIP will facilitate slide replacement that will improve users' experience and safety while improving the overall appearance of the park.
Fort Flagler State Park: Interpretive Trail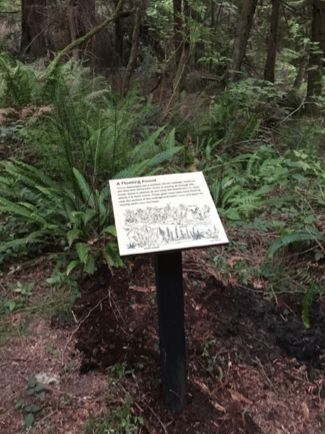 The forest is a dynamic ecosystem and its layout is constantly changing; so too needs the interpretive trail to adapt to these changes. A paper handout corresponding to number posts along the trail currently requires updates to improve the experience of visitors to the park, as things have shifted over the years. This PIP, to be carried out by boy scouts, friends groups, and park staff, will facilitate the purchase of updated signs and materials for sinking posts to place them in the correct positions.
Goldendale Observatory: Upgrade Dome opening mechanism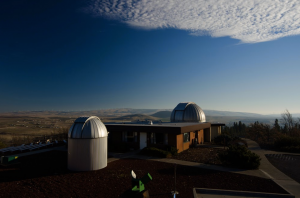 What has long since been an incredible resource will improve in safety, longevity, and the quality of the user experience with conversion of the large dome shutter actuation to electric, remote-controlled operation powered by batteries. The improvement will allow visitors to Goldendale Observatory longer periods of self-guided access, whereas the current mechanics consist of frequently damaged extension cords that fuel a leaky hydraulic system that frequently fails.
Ike Kinswa: Animal Tracks stenciling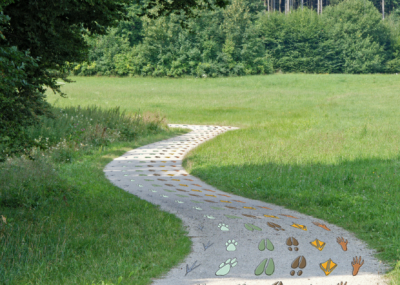 Ike Kinswa State Park hopes to enhance visitors' engagement with the ecology of this lakeside camping park. Animal print tracks spaced out along the path between the popular campground and the playground, while a wayside sign overlooking the beach and distant forested shore will offer more in-depth information about the local wildlife and ecology of the site. Park staff hope eventually to integrate these improvements into educational programming and junior ranger opportunities at the park.
Lake Chelan and 25 Mile Creek State Parks: Entrance improvements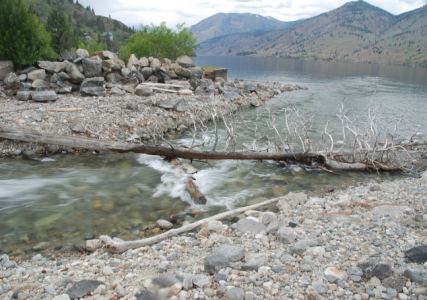 During the 1970s, chain link and barbed wire fences were erected to protect the entrances to Lake Chelan and 25 Mile Creek State Parks. For decades, these fences have hindered spectacular views and detracted from the sense of welcome true to Washington's State Parks today. With this PIP grant, park staff will remove especially unsightly portions of the old fences and replace them with low impact, attractive fences supported by organic wooden poles. Fences will continue to direct traffic without detracting from the views and the welcoming attitude of the parks.
Lake Wenatchee State Park: beach path interpretive panel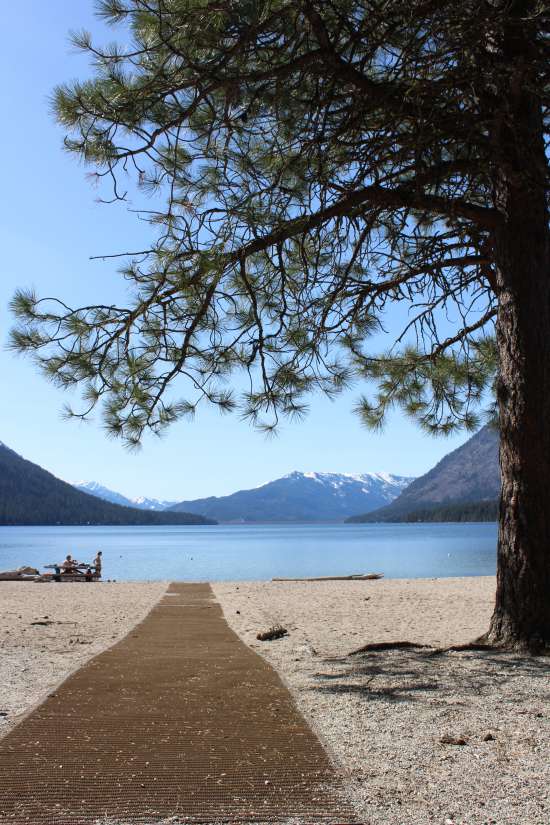 Lake Wenatchee State Park's extensive beaches offer an expansive viewshed of the lake and surrounding ecosystems. In this PIP, park staff plan to install an interpretive panel detailing features of the lake including wildlife migrations in the area, geologic features, and historical context. Placement of the panel adjacent to the park's ADA beach access ramp would provide diverse access while connecting visitors more deeply to the richness of Lake Wenatchee.
Little Spokane River Natural Area, Riverside State Park: Trail Markers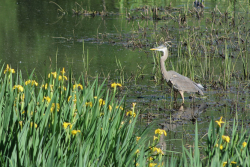 Five trails running through the Little Spokane River Natural Area are currently unmarked. Volunteers from Saint George's School and other groups plan to help set up the foundation for what will be developed into maps to provide navigation to park guests at kiosks and in brochures.
Matilda Jackson State Park at Lewis and Clark State Park: Park Entrance Improvement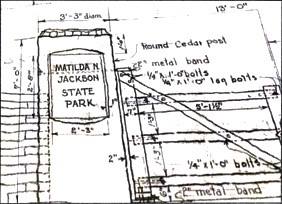 Matilda Jackson State Park celebrates the pioneer and homestead life of Matilda Jackson, whose daughter donated the land to the Washington State Parks System in 1922. Just in time for the park's centennial, park staff will install signage along ADA paths and, using historical US Forest Service blueprints, repair and rebuild the 1935 Civilian Conservation Corps replica fence and a replica of the similarly aged park entrance sign. The hope is to create an ADA accessible self-guided tour through the historic park.
Miller Peninsula State Park Property: Entrance improvement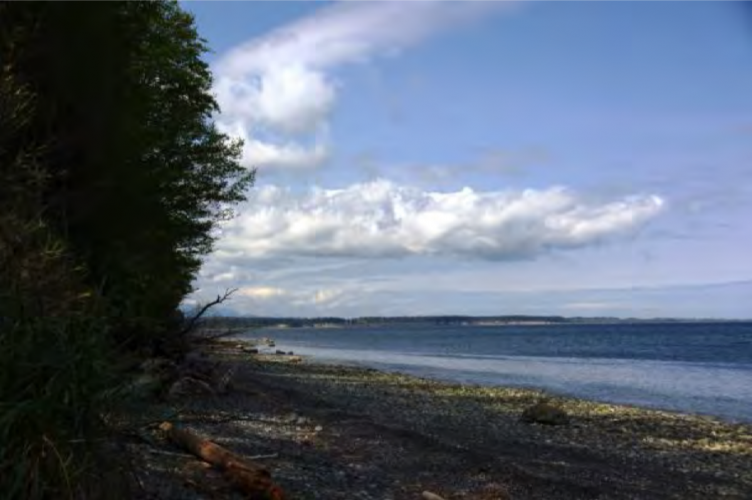 Despite stunted development due to funding challenges, Miller Peninsula State Park Property has continued to host visitors over the years. Usage ranges from access to trailheads leading to coastline on the Strait of Juan de Fuca and Discovery Bay to less innocent use of the property's parking lot as a mud bog for local pick-up trucks. Parking lot improvements would eliminate destructive behavior in the parking lot by replacing the poorly drained low spot with a large retaining wall filled with soil to support native shrubs and a majestic Douglas Fir, along with a lighted welcome sign to identify the park.
Your support goes to PIP grants at these 20 State Parks!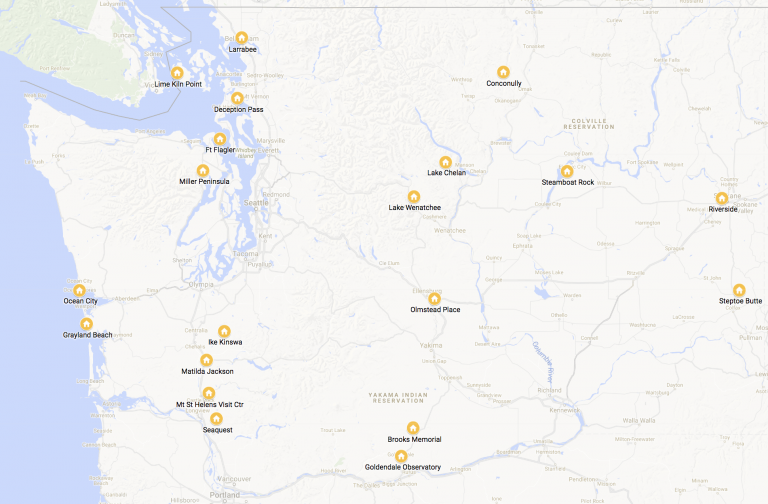 Your support and donations are making these amazing state parks better places. You can make improvements to the next state park possible by making a donation today.