This past May, more than 300 people contributed to the Washington State Parks Foundation during the GiveBig fundraising event. Thanks to the generous support of these State Park Champions, we are able to sponsor another project in your state parks.
Member funded. Member selected.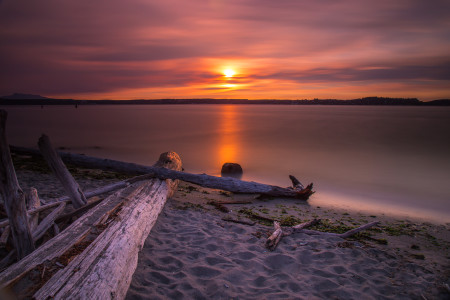 We invited everyone who contributed as part of the GiveBig event to help pick our next park improvement project from a list of five worthy options. And the winner is…
Fort Flagler State Park!
This project at the popular state park near Port Townsend will replace trail signs, level uneven and seasonally wet areas of trails, repair damaged boardwalks and protect tree roots near trails. As park manager Mike Zimmerman told us, this funding will "re-establish a quality trail system and appropriate signs that have been either damaged or weathered beyond recognition to the general public. Renewed signs will again coordinate with the park trail maps." Sounds great!
If you've traveled the trails there recently, you appreciate the value of these improvements. We also want to send a shout out to the good folks at Friends of Fort Flagler State Park, who will help with this improvement project as part of their ongoing volunteer care and stewardship of this special place.
Small. Simple. Significant.
We're proud of our Park Improvement Projects program, funded entirely by contributions from people like you. This Fort Flagler project effort is the 10th state park improvement we've been able to fund in 2015. And while we anticipate bringing you the good news when these projects are completed, we are also looking ahead for the next opportunity, and the next.
With your support, we will continue to fund great projects that will enhance visitors' experiences in state parks across Washington. And we look forward to your input. Our wonderful state parks always need help. Having donors choose our projects and reflecting your hopes and needs is central to our mission. That's why our tagline is:

Your Parks. Your Voice.