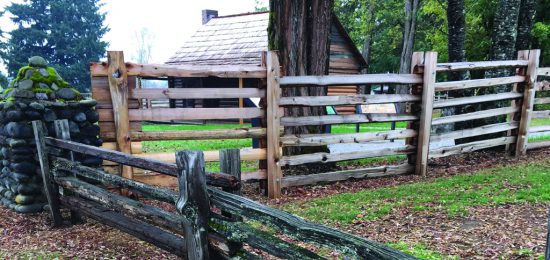 Thanks in part to community support, one of our original state parks undergoes an historic restoration.
Each of Washington's State Parks boasts a rich, unique history, and the Jackson House State Park Heritage Site is no exception. The park was one of two first acquisitions (along with Larrabee State Park) back in 1915 by the newly formed Board of Park Commissioners, a state governmental group whose name and role have evolved over the decades to become the Washington State Parks and Recreation Commission that we know today.
By 1915, the site of the Jackson House was already historic. John Jackson, a pioneer originally from England, settled on the site after heading west from Missouri in 1844. He built a tiny log cabin and a developed his homestead, which he called "The Highlands." Just off the Jackson Highway (part of the old Pacific Highway), the site was about halfway between Oregon City and what is now the Seattle area. Jackson's family grew with his marriage to widow and mother of four sons, Matilda Koontz, and so did his cabin.
In 1850, Jackson completed the bigger cabin that today's Jackson House most resembles. As settlers populated the area, the post and beam cabin became an important community building, serving as regional courthouse and post office, and housing occasional passers through.
Nine years after Jackson's death in 1973, Matilda moved into another building on the property. August Donahue purchased the portion of the property where the cabin stood, and the cabin remained abandoned until 1915, when Donahue agreed to donate the small parcel and cabin to the state.
In what is said to be the first historic restoration in Washington State, one of Matilda's grandchildren, Anna Koontz, along with her women's group, St. Helens Club of Chehalis, raised $500 to restore what had become a building in decay. It took the summer and part of autumn of 1915 to complete the restoration, which reused as much salvaged material as possible and matched the cabin's 1850 appearance.
102 years later, the Jackson House again required restoration. Its logs were rotting, its grounds were patchy and uneven, its peripheral fence faced decay, and its original brick paths were hazardous, highlighting the site's lack of ADA access. With funding from various sources, including an Historical Capital project, the whole site began a massive restoration project in 2017. An October 6, 2017 celebration marked the completion of the courthouse' restoration.
Come spring, 2018, funds from WSPF will go toward materials for the new cedar fence around the property's periphery, restoration of the original brick paths, and revitalization of the site's grassy grounds.
The Jackson House site, which is a satellite of Lewis and Clark State Park, is open by appointnent for the winter, and will reopen for normal day use on May 1, 2018.